In the recent past, community members used to go encroach Lengwe National Park to burn charcoal and collect firewood for household cooking. But after the formation of a weaving cooperative society at GVH Mandrade, villagers surrounding Lengwe National Park are no longer relying on the park for survival-Thanks to Building Resilient Communities around Wildlife Protected areas project.
The three year project, is empowering communities around wildlife protected areas to transform negative coping mechanisms to climate change effects.
A consortium of four organizations namely, CICOD, CARD, YONECO and CISONECC is implementing the project in areas around Mwabvi Wildlife Reserve, Kasungu National Park and Lengwe National Park with financial support from European Union through Trócaire.
"We make different kinds of traditional items like the baskets, handbags, mats and brooms among others. Even though many among us knew weaving already, we still received training in 2020. It helped us improve a lot. Our group members were selected based on skill and economic dependency," William Lankeni said.
All members of the cooperative are now busy weaving and prefer to do it in their respective homes. The members are now earning a living from selling attractive products to the locals.
An improved market linkage is however lacking to find customers elsewhere. The group hasn't been able to successfully sell their products.
Amos Tizora who is the Executive Director for CICOD, said moving forward, the focus has be on how to extend all possible help to local communities living around Lengwe National Park.
Apart from the weaving initiative, some women are also part of the local juice production group. Such alternative sources of livelihood are helping empower community members and also promoting conservation in their area.
Over the past few months they have also started earning a decent amount. Most of these villages are remote and the residents mainly practice subsistence farming for livelihood.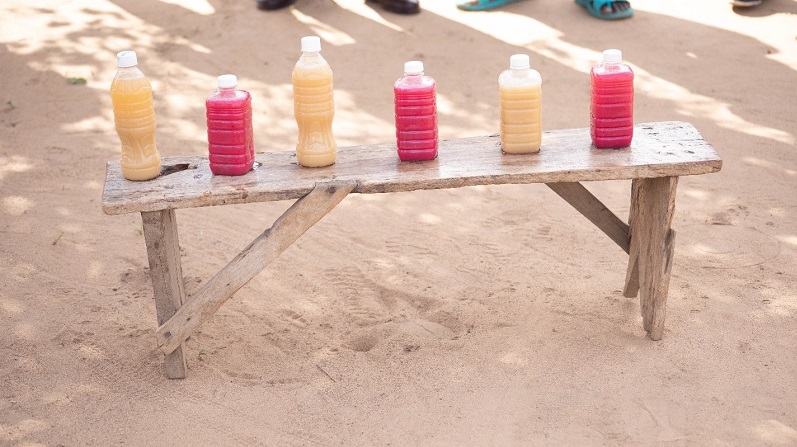 Khathikhathi Malambe Juice-locally produced by Mbundi VSL Group at GHV Kanzimbi in Chikwawa district.
Community members have been trained in juice production. One of the women said they produce Malambe Khathikhathi juice, prepared with baobab fruits and traditional spices. A 250 mls bottle costs 150 Malawi Kwacha.
"Earlier, we used to depend on the park a lot to burn charcoal for survival. Now, we are earning through these initiatives which is of great help to my family comprising four members," she said.
Many households in her village also own low energy cooking stoves popularly known as Chitetezo Mbaula and are more economical when it comes to firewood consumption.