Francis Banda of Matewere village in Traditional Authority (TA) Juma in Mulanje District recounts of the period when walking on foot to follow up on cases of gender based violence (GBV) was the order of the day.
"Group Village Headman Manyumba has 22 villages which are vast. I was spending much time to follow up GBV cases around the area. It was not easy," he recounts.
Banda recalls the time when he received a report that a 13 year old girl was defiled and the suspected man had run away.
Like a foot soldier, Banda did not waste time to embark on the journey to Sumani village to gather details for himself and grab the case by the throat.
"It was after going there that I gathered that the girl who was learning at Thawale Primary School was allegedly defiled by a man from the same village who later run away to Ntchisi," says Banda.
Banda says the journey was followed by endless movements between Matewere and Sumani villages in order to make sure that the suspect is brought to book.
But, the story is now different. In January 2020, Banda together with nine male champions from TA Juma received a bicycle each through a project called 'Comprehensive Action for Adolescents Girls and Young Women' (AGYW) which Youth Net and Counselling (YONECO) is implementing in the district in partnership with Christian Aid with financial support from Global Fund.
Banda says after receiving the bicycle he has managed to make follow ups on the case which was stalling.
"The bicycle has helped a lot in facilitating my movements between Matewere, Sumani and the police station where the matter was reported," Banda says. "Currently I have heard that the boy is back so we are going to follow up so that he should be arrested."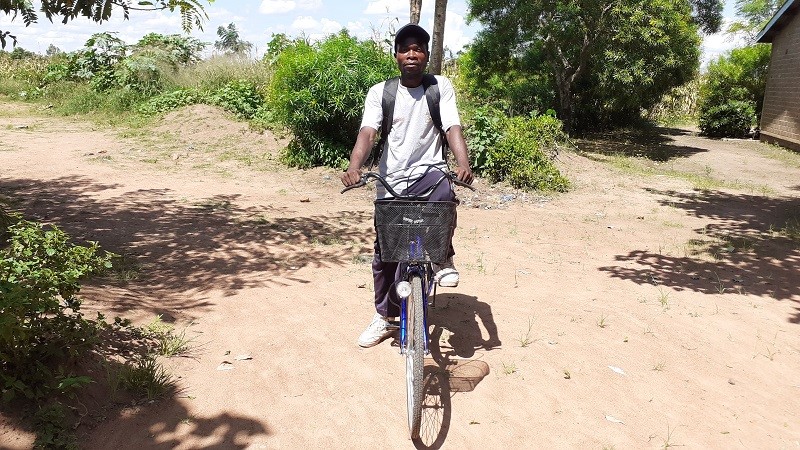 A male champion from TA Juma
Another male champion, John Basali of Group Village Headman Wendewende says since receiving the bicycle he has conducted two awareness meetings on gender based violence.
"In TA Juma there are 102 GVHs and 194 villages. Where I stay at GVH Wendewende there are 14 big villages so mobility is not a challenge now. One awareness meeting was conducted in Sumani village at Thawale Primary School on 15 February, 2020," says Basali.
Grant Chitseko of Manyumba village says after receiving the bicycles he is able to act with speed on reports of incidences of gender based violence including child marriages.
"At first it took us two weeks to follow up a case after being given first-hand information," he says.
The story is also the same in the area of Traditional Authority Mabuka.
Shadreck Malola, a male champion in GVH Misanjo says the bicycle has helped to ease mobility problems.
He says due to the vastness of the area which has 22 GVHs, at first it was difficult to follow up on issues such as child marriages but now using a bicycle he is able to visit areas such as Mphuso which are very far.
"The bicycle has also helped in termination of two child marriages and the girls are now back at Misanjo Primary School," says Malola.
Chairperson of male champions in TA Mabuka Mphatso Mpatana says male champions from the area were having difficulties to cover long distances on foot.
"I stay at Misanjo trading centre which is about three kilometres to the nearest trading centre, Machokola in Namtombozi so at first it was hard to cover this distance on foot to attend to gender based violence cases," says Mpatana.