Napoleon Hill once mirrored through different lens of life that 'strength and growth come only through continuous effort and struggle' not knowing the future of Mchinji-based Machichi Farmers Cooperative, a prospective cooking oil producing industry giant, is sailing through troubled waters.
Located at a distance of about 109 kilometers from the capital city, Lilongwe, Machichi Farmers' Cooperative was established in 2008 with an aim of uplifting the livelihoods of small-scale famers within the district and surrounding areas.
Despite losing over 50 shareholding members, who have now established their independent farmer clubs, the cooperative still has a membership of at least 200 farmers.
The cooperative, which is based in the area of Traditional Authority, Chiphasi, was formed especially to deal with unavailability markets for crops,  mainly groundnuts and sunflower, as narrated by its chairperson, Sylvester Gelesom.
"We started with an idea of promoting local crop production and animal husbandry, that after harvesting, farmers should have easy access to markets but after spanning 3 years we decided to move a step ahead by hitting the market with value addition products to realise more proceeds using the available groundnuts produce," he says.
For Gelesom, though it is taking time for Machichi Cooperative members to realise their 15-year-old dream of creating a peanut and cooking oil production giant in the refining industry, the farmers are now worried about substantial capital which has been the major setback.
Ironically, Malawi has recently faced hefty cooking oil prices culminating from lack of serious competition in the cooking oil industry as well as innovations to sustain the market.
Currently, Malawians are digging dipper into their pockets to purchase a bottle of cooking oil, as crude oil for most cooking oil brands is imported into Malawi.
Unfortunately, local cooperatives which could have saved the situation are struggling to break even.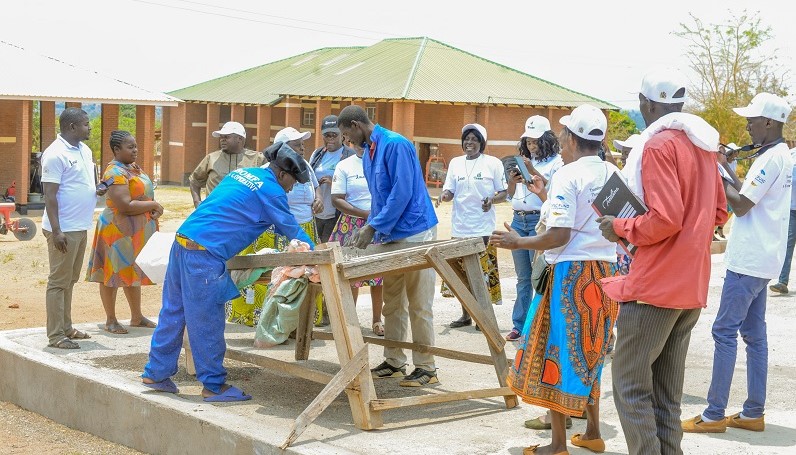 Machichi Cooperative is an example of entities with the potential to turn Malawi into a cooking oil-exporting pool, however, despite years of existence the cooperative is failing to secure a place in the refining industry.
For instance, the cooperative is failing to supply to the market recommended quality refined cooking oil compared to established cooking oil companies as it waits for seven days for the cooking oil to undergo purification processes using localized means of cooking oil production.
Just like at Machichi, Bowe Mission Farmers Association (BOMFA) is running one of the promising local industries in Kasungu district.
The cooperative boasts of shareholding members of about 100 farmers. Currently, BOMFA produces about 1000 liters of cooking oil per week but they are yet to start making reasonable profits because their only available off-takers are vendors.
Dexter Chipiringu, who doubles as a Marketing and Finance Manager, says the association is failing to make a breakthrough in the market due to lack of certification credentials from Malawi Bureau of Standards (MBS) arguing the farmers do not have a refinery machine for their cooking oil.
"We failed MBS certification test because we do not have a refinery machine. Everything is okay here, as you can see, our packaging is alright and we have one of the best warehouses but, the only problem is that our product is not refined so we can't hit the market," he laments.
He adds: "We now want to write a proposal asking TRADE to step in. We want a refinery machine worth 100 million Malawi Kwacha. We hope TRADE will do something about this."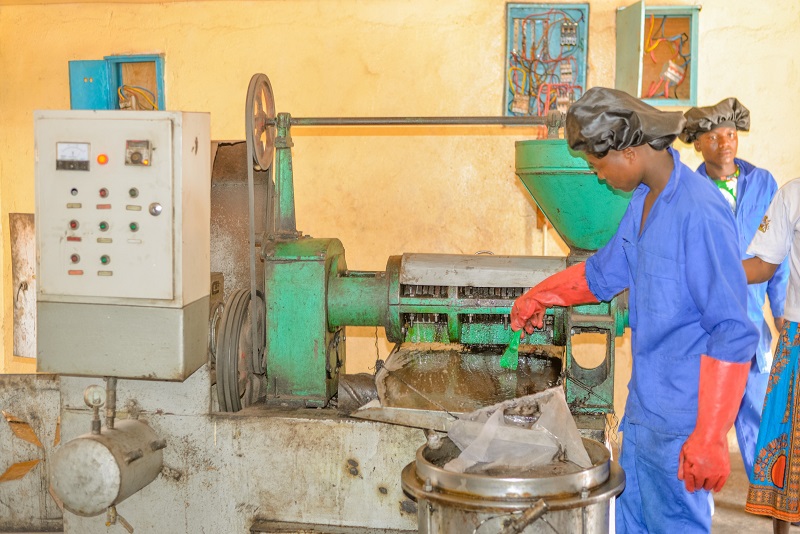 Cooking oil production in process
Government of Malawi through the Ministry of Trade is implementing a six-year project
dubbed "Transforming Agriculture Through Diversification and Entrepreneurship – TRADE " targeting 127,000 rural-based and small-scaled farmer households' with commodity interventions on Agriculture Commercialization such as full agro-processing by among others creating an enabling environment for local and small scale farmers through matching grants capitalization.
According to Knowledge Management and Communications Specialist for TRADE, Oscar
Ulili, the project is committed to supporting result-oriented cooperatives to transform their lives.
"We have noted from the sites we are working as a project, we have seen small-scale farmers involved in crop value-addition, but their products are miserably failing to hit the market and Malawi Bureau of Standards requirements, due to capacity issues," Ulili narrates.
He says they are devising a strategy to have farmers and the private sector ironing out the market challenges.
"As a project are already on the ground, we want to have what we call a producer private –public partnership that will enhance the linkage between the private sector and farmers on challenges such as marketing," Ulili adds.
If the blueprint of this ambitious program is anything to go by, then the livelihood of groundnuts and cooking oil producing farmer will not be the same and at the same time a consumer will breathe a sigh of relief on the cost of cooking oil, which currently, is no longer a basic need but a luxury.